Giganews crosses 600 days barrier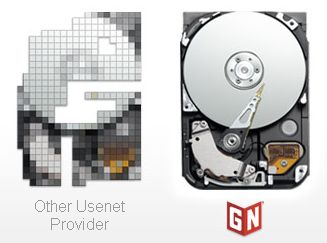 Giganews  has made a tremendous leap in technology. Leading group of companies offering Usenet already offers access to binary data at the level of 600 days in the past. Giganews yesterday passed through the 600 days barrier as the first . It should be noted that Giganews cares about the integrity of data. More than one of us can annoy if download a large binary files and some of them will be damaged. We must then try to fix it but who has the time? With Giganews, we can be sure that we get the service at the highest level.
We need to remember how big they are now requirements for disk space – let's look at how many HD movies are now occupied, and other binary data. Data comes from year to year but is also constantly increased retention time. Have a look at historical data looked like Giganews progress in increasing the retention time of binary data in the newsgroups:
12/17/2003  30 days
08/08/2005  50 days
12/07/2005  70 days
09/19/2006  90 days
02/01/2007 announcement to increase the retention time of 100 days within 2 weeks.
04/12/2007 120 days
07/12/2007 200 days
09/29/2008 240 days
05/09/2009 275 days notice and order to achieve the retention of 365 days in August 2009.
06/03/2009 300 days
08/07/2009 365 days
09/11/2009 400 days
03/30/2010 600 days
It's surprising what progress is made. If increasing the retention time would continue at the pace in the second quarter of next year we could be up to 1,000 days retention time of binary data. Thus, Usenet is a huge repository of binary data, not to mention the massive amount of text data.
Very often presented as an alternative Astraweb offers 591 days retention for binary data. However, a number of different providers offering always the Usenet binary data retention time of 200 days. Very easy to see that they no longer count in the battle for the customer.
Rafal Olszak News, Usenet Providers binaria, binárne súbory, binary retention, data integrity, filmy HD, Giganews, Usenet